Madagascar tourism news – march 2011 – part 1
Madagascar tourism 2.0 version
By reading her Lettres de Madagascar (letters of Madagascar) to the audience of the mediatheque Beziers – France, Francoise Carrere, a retired agricultural college professor of Bonne Terre in Pezenas, confirms that tourism 2.0 version has now definitely arrived in Madagascar.
The Malagasy tourism is no longer confined to staying in a seaside corner of paradise, under the
palms, sipping a fruit flavoured shandy… It is now all about continuing to fight for one's beliefs and values, whatever they are, while enjoying good times with
local people and enjoying the satisfaction of having made the difference to "change the world." We wish to emphasize on that beautiful testimonials of Ms. Carrere and her team as they made their mission at the end away from the traditional spirit of "helping, cooperating" or as being "the foreign expert."
If you want to have contacts of Madagascar tour operators offering various agrotourism and ecotourism community package tours, please contact us at Voyagiste Madagascar.
Optimism at the highest point
This year objective for the malagasy Ministry of Tourism is 250 000 tourists, an increase of about 15% over last year. Despite the ongoing political crisis, optimism is still present. The main goal is to meet, if not to exceed the excellent year of 2008 during which Madagascar received a little less than 360 000 tourists in total. The operators count not only on luxurious tourism, but also and especially on business and community tourism.
Support Madagascar tourism by regularly visiting Voyagiste Madagascar or contact our partners for your future trips!
The air battle is on in Madagascar
Good deals hunters, on your marks! Air Madagascar offers special fares for flights from Paris and Marseilles to Tana or Nosy Be. The offer is for a limited time and will only be valid for travel between March 16 and June 15, 2011. Keep informed!
An even more tempting offer is the opportunity to upgrade your seat with Air Madagascar with 700
euros (about $ 960 CAD) per section. This offer is available since early March for departures from Paris and Marseille to Antananarivo or Nosy Be within 14 days before departure date.
For its part, Corsairfly announced March 4 that starting on the end of June, four flights a week will arrive at the Ivato airport in Antananarivo. Three flights will stop by Mayotte and the last flight will make a direct flight from Paris (Orly) to Tana. Definitely, a good vibe is finally coming up in malagasy tourism!
Air France is also making its mark in this competition. The number of places for their four weekly flights between France and Madagascar will be provided by Boeing 777-300ER instead of the current Airbus A340-300. This modification is expected on June 6th, 2011 until the end of October. The Boeing can accommodate 777 passengers against 275 for the Airbus A340.
Our Black Sheep flash news (guess why!): Dreamwork announced Madagascar 3 will end June 8, 2012 in the United States instead of May 25, 2012 as planned.

A museum for "geeks"
The museum Raketamanga celebrated the Women's Day on March 8 by emphasizing on the importance of women in malagasy society. Located in the district of Avaratr'Ankatso, the museum was founded in June 1986 by Lalao Raketamanga, a PhD on literary,
artistic and industrial property law.
This unique facility offers to the university students and researchers a whole library on intellectual property…for those who like to cultivate one's mind during their trip.
New Discoveries
Connoisseurs know that in Madagascar, discoveries of new species of plants or animals are almost a
banality, except when the species is found nowhere else in the world. This is the case of a very rare new species of chameleons discovered in the south part of the Big Island by a group of rbritish esearchers : the Durrell Institute of Conservation and Ecology (DICE). The Furcifer belalandaensis or Belalanda chameleons are considered as the rarest reptiles in the world according to Professor Richard Griffiths from DICE.
The recent discovery of Mentocrex beankaensis in the dry forest of Beanka also made headlines on march. Nobody has seen a real specimen of the bird so for now, one can only find images of this creature designed by artists. Beanka forest is part of the protected areas of Madagascar in the Melaky region, 70 km from Maintirano in the midwest of the Island. It is managed by the Madagascar Biodiversity Conservation.
Useful travel information
Madagascar is obviously also a victim of the global fuel rising prices. On early March, the price of gasoline jumped 3.30% at MGA  3 130(1.57 USD) while the price of diesel increased by 2.37% now at MGA 2 590 (1.30 USD). The government however, made an intervention to slow down the increase which is now relatively stable from week to week.
Modern bush taxi
Slowly but surely, Madagascar travel industry catches up with the inevitable technological
upgrading. Recently, the union
cooperative of local carriers have concluded a partnership with the Orange Group, an international mobile telephony gian, to install individual solar telephones in each of their vehicles. The objective of this partnership is mainly to increase the safety of drivers and passengers by keeping them in constant contact with their head office and colleagues through the mobile carrier Orange Madagascar. The solar technology has been chosen to facilitate charging the devices even without electricity.
The union includes 33 intercity bush taxi cooperatives across the Big Island. But for this project, were chosen as pilot project the axes of the national road (NR) 4 linkin the malagasy capital Antananarivo to Mahajanga, RN 6 from Mahajanga to Diego, and RN2 linking  Tana to the eastern littoral.
Follow the guide … it's vanilla!
Now, besides being a sun and beach destination, Madagascar is one of the new "vanilla" destinations with Mauritius, La Reunion, Comoros and Seychelles. The respective tourism departments of these four islands have developed the innovative concept of "vanilla island" to target a new market of tourists. The idea is to create a single destination to find out what makes the reputation of the Indian Ocean which is vanilla.
Vanilla, more than just an agricultural product, represents a new way of visiting the Indian Ocean, and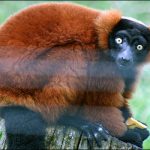 appreciating the culture and the common identity of its islands. Travelers will be able to enjoy the journey with the diversity and particularities of each island.
Several actions have already been undertaken to promote this "new destination". An official website has been made available online. "Vanilla Island" packages and journeys have been mounted in collaboration with major international airlines that serve this area.
The next step  now will be to design cruise packages.
Travelling Lemurs
Specimens of red lemurs from Madagascar, currently endangerd, were admitted on early march to the zoo Alligator Farm in St. Augustine, Florida United States. These lemur species are from the north-east of the Big Island.
The family of four individuals – Levi, Eli, Junior and Mortice – previously lived in Jackson Zoo in Mississippi. Their exhibition at the zoo Alligator Farm began March 18.
Madagascar Tourism News – March 2011 – Part 2
Madagascar Tourism News – March 2011 – Part 3
If you like this article, recommend it on facebook using buttons below.