Beaf and beans recipe
Ingredients (serves 4):
1 kg stewing beef cubes
250g dry white beans (or 300g fresh white beans)
2 cubed medium sized tomatoes
3 tablespoons vegetable oil
1 large onion, chopped
A half clove of garlic mashed
Half teaspoon curry
Cilantro
Salt and pepper
Water
Preparation:
If using dry beans, soak in 4 volumes of water overnight and drain before use. Fresh beans does not need to be soaked but used as is. You can also use canned beans but it is not very malagasy at that time! In malagasy cuisine, everything must be fresh and long prepared with lots of love …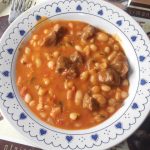 In a pot, cover beans with water and boil on medium heat with a little salt. Cooking is finished when the beans can easily be crushed with your fingers. Add water as needed untill the beans are tender. Once the beans are cooked, turn off the heat even if there are still some cooking juices.
Meanwhile, cook the meat in another pot over medium heat, adding water occasionally until it is tender. Add salt to taste. In general, beef stew cooks quickly. The meat should not be too soft to prevent fraying when you mix it with beans. Once the meat cooked and all of the juice evaporated, add the oil, onions and garlic and let fry for about 2 minutes. Then add the tomatoes, cilantro and curry, and cover. Simmer for 5 minutes or until tomatoes are softened. Then add the cooked beans with their juices in the sautéed meat. Mix well and adjust seasoning (salt and pepper). Add a little water if you want a little more juice.
Serve with white rice and fresh tomato salad  … and maybe some fresh chili paste!
Enjoy! – Mazotoa Homana!
VM tip: Malagasy people prefer fresh beans and greasy meat for this dish: the more fat, the better!